Self-remembering presents the promise of mystical states of consciousness, direct connection with the underlying reality of existence, personal freedom of action, awakening of an objective human conscience, real positive emotions of love, and the posssibility of existence on some higher level after the death of the physical body.
In talks to his students Robert Burton shows how to use this ancient practice of self-remembering to fully penetrate the elusive present.
His Self Remembering presents the results of a life- time dedicated to this discipline, the essential practice of virtually all spiritual traditions. While the author has brought the influence of dozens of teachers, artists and cultural figures into his work, it will be clear to every reader that his teaching is a product of his own direct experience with the realm of the miraculous and that his knowledge is the result of his own self-perfection. In this book he shows the relation of self-remembering, similar to Buddhist mindfulness and Orthodox non-attachment, to every aspect of the Fourth Way student's life and work.
© Copyright Fellowship of Friends 2001 - All rights reserved.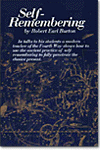 York Beach, Maine: Samuel Weiser, 1995.
You can order this book online at Amazon.com.